Great exhibitions being held in spring
2023-05-07 05:13:37
Kyujin Joung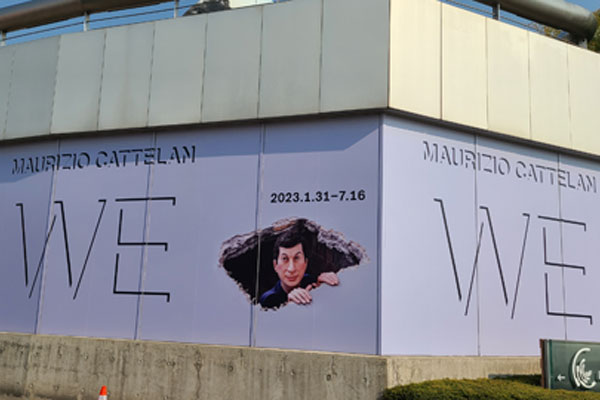 [Leeum Museum Wall : Photo by Kyujin Joung]
The spring of 2023 will see more exhibitions of famous artists coming to Korea.
Currently, Maurizio Cattelan's "WE" exhibition is enjoying a great deal of popularity at the Leeum Museum. (Jan. 31 - July 16, 2023)
Maurizio Cattelan is an Italian visual artist who is labeled as a joker or prankster of the art world.
He is well known for his artwork, "Comedian" which was an affixed, real, fresh banana taped to a wall at Art Basel Miami, 2019.
Then, a performance artist, David Datuna, bought this artwork for $120,000 and ate it up in front of that wall in the exhibition.
As a work of conceptual art, "Comedian" included a certificate of authenticity.
The most expensive banana in the world, "Comedian", was meant to represent the absurdity of world trade, contemporary art, and other such ideas.
Maurizio Cattelan created new perspectives by attaching a new title and applying new ideas to objects from our daily lives.
This way of creating artworks is reminiscent of Marcel Duchamp, who is famous for his work, "Fountain", a urinal, in 1917.
The first Korean solo exhibition of Maurizio Cattelan is open at Leeum Museum.
A total 38 works, including sculptures, installations, murals, and photographs are being presented in this exhibition, which is the largest exhibition of Cattelan's work since the retrospective exhibition at the Guggenheim Museum, USA in 2011.
Leeum Museum also has on display, "Joseon White Porcelain, Paragon of Virtue".( Feb. 28 - May 28, 2023)
This is the first special exhibition devoted exclusively to ceramics in Leeum Museum's history.
This exhibition covers the full spectrum of Joseon white porcelain.
One can find the overwhelming comfort and beauty of a total 158 pieces of white porcelain of the Joseon Dynasty, which are as bright as the Sun and still as the moonlight.
Moreover, it offers an entirely new perspective on white porcelain as the physical embodiment of the gunja, a consummate being who represented the ideal value and principles that the Joseon people aspired to attain.
Both of the aforementioned exhibitions are free that one can enter only after making an online reservation.
David Hockney and British POP ART "1960's Swinging London" exhibition is also in progress at the DDP. (Mar. 23 - July 2, 2023)
David Hockney, a British artist known for his contribution to the pop art movement of the 1960s, is perhaps best known for his colorful, vibrant paintings of swimming pools and sunny California landscapes, which he created during the 1960s and 1970s.
Swinging London refers to a cultural and social phenomenon that emerged in London, England during the 1960s.
The term "swinging" was coined by Time magazine in April 1966 to describe the exciting and vibrant atmosphere of the city at that time.
People can see large scale works of David Hockney, a living modern art icon, and 15 other various contemporary artists full of personality.
Edward Hopper's "From city to Coast'' is also being held at the Seoul Museum of Art from April 20 to Aug. 20, 2023. Finally, Kim Whanki's Retrospective exhibition is highly anticipated to be held at the renovated Hoam Museum sometime later in 2023.

Kyujin Joung / Grade 10

Yongsan High School