Silicon Valley Korean School holds a field day
2023-05-17 22:59:35
Sojin Kim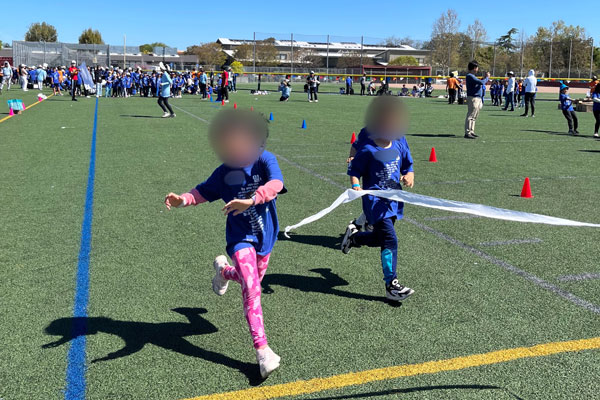 [Students running at the field day. Photo credit:Sojin Kim]

The field day at Silicon Valley Korean School was held on April 22, 2023.
Silicon Valley Korean School, also known as SVKS, is the largest Korean learning school in the U.S.
They offer classes to learn Korean and also elective classes where they can learn things like art, K-Pop dance, novel reading, and more.
It was founded in 1974 and has over a thousand students and fifty teachers.
The student's ages range from pre-k to 8th.
Silicon Valley Korean School's field day is annual.
But, because of covid, it was postponed until further notice during 2019-2021.
This event is an exciting part of the school year that students look forward to.
On the day of the field day, all students were required to wear their Silicon Valley Korean
School shirt, symbolizing school spirit.
The field day hosted is similar and different to the field days in South Korea.
For example, some of the events held were similar.
Those included tug-a-war, relay races, and rolling a big ball.
All these three events could be commonly seen in South Korea's traditional field days.
Adding on, splitting the teams into two, each team called chung (blue) and baek (white).
The two teams cheer on their teammates, along with friendly competition between each other.
It's commonly shown that students from different grades cheer on the other grades as well, especially during the relay races.
Although there are a lot of similarities, there are a few differences.
First, during South Korea's field days, students commonly eat bento boxes or special food for the day.
Unlike that, Silicon Valley Korean School students or classes either have to prepare their own snacks or buy their food at the food court area provided.
Before, the field day was only memorized by a few photos, excluding the ones the parents took.
Nowadays, much more advanced technology is used to take many photos to remember the event.
Specifically, Silicon Valley Korean School used drones this year to create videos and photos about the field day.
During the relay races, volunteers, mainly from high school and college, ran with the students, filming them with a heavy camera.
As a result, Silicon Valley Korean School finished its field day as a success.
Thanks to the parent volunteers, teachers from Silicon Valley Korean School, high school student volunteers, and college student volunteers, the field day ran smoothly without big mistakes or obstacles.
The students could experience a lot of new things because of the field day.
They got an idea of how schools in South Korea do their field day.
Giving them an idea helped them learn more about South Korea and one of their main school events.
The next field day at Silicon Valley Korean School is planned to occur in April 2024.

Sojin Kim / Grade 7

Session 1

Sunnyvale Middle School