HOME
Media & Entertainment
Noonoo TV continues to prosper despite takedown efforts
2023-04-02 17:37:23
Hoseok (Chris) Ahn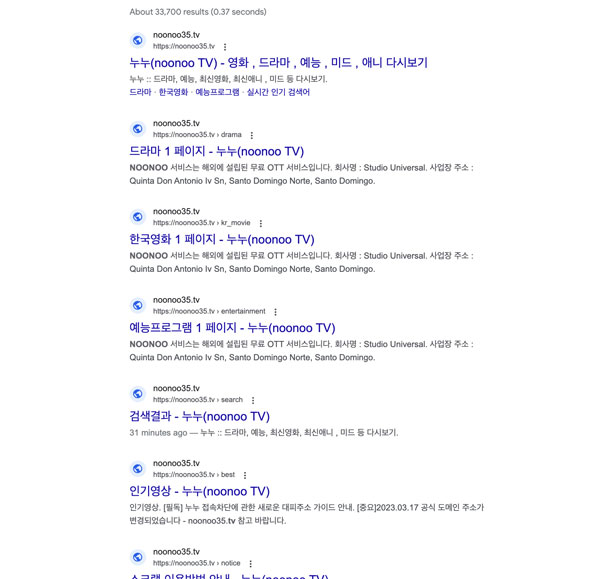 [The accessibility of Noonoo TV as shown through simple Google search. Photo Credit: Chris Ahn]
Noonoo TV, the pirate OTT (over-the-top) website, has garnered more viewers and support despite joint efforts of the OTT services and the Busan Metropolitan Police Agency Cyber Crime Investigation Unit.
Since July 2021, Noonoo TV has stolen media content from numerous paid OTT services and freely streamed them on their website.
In doing so, it has robbed OTT services of viewers and potential viewers.
Noonoo TV has garnered a user base of 10 million viewers in Korea, twice the number of Netflix subscribers in the region.
⁠ ⁠Further attesting to its popularity, the platform's video content accumulated 1.5 billion views as of February 3rd.
Such prosperity of Noonoo TV has had a marring effect on the performance of OTT services.
Netflix, for example, experienced declines in revenue for the first time since 2012 from 7.97 billion USD to 7.852 billion USD, from the second quarter of 2022 to the fourth quarter of 2022, while Noonoo TV was expanding.
Noonoo TV's content theft has enraged media content businesses all around Korea.
Thus, South Korean OTT services Wavve and Tving have joined forces with Studio LuluLala, KBS, MBC, JTBC, and Korean Copyright Commission to launch a unionized effort against Noonoo TV.
The seven formed a coalition named the Alliance for Protection of Videogram (APV), which recently filed criminal complaints and lawsuits against Noonoo TV.
"We will take various measures to protect Korean creative content overseas, allowing the creators and the related industries to develop in a safe environment," noted An Sang-pil, a copyright specialist from the APV.
Thanks to the alliance's efforts, Busan Metropolitan Police Agency Cybercrime Investigation Unit started investigating Noonoo TV on March 9th.
The news of APV's formation and the Busan Metropolitan Police Agency Cybercrime Investigation Unit's crime investigation was broadcasted across the media.
However, this had the opposite effect of gathering more viewers and support for Noonoo TV.
Since the news reports spread throughout Korea, Noonoo TV has gained more users.
As a testament to this effect, Noonoo TV's last episode of "The Glory" (content produced by Netflix) exceeded four million views over just four days.
Moreover, netizens across Korea have started rooting for Noonoo TV.
"Survive, Noonoo!!! You can do it!!! It is important to have an indestructible mindset!!!" one popular comment read.
"Please don't get banned, Noonoo. I truly support you," another popular comment read.
Responding to both threats of criminal investigation and increasing support, Noonoo TV has set out to defend its platform and users.
For one, it has changed server location from Asunción, the capital city of Paraguay, to the Dominican Republic, complicating the police investigation processes.
Additionally, the platform publicized detailed instructions for its visitors on how to avoid police tracking on its website.
Noonoo TV's content piracy violates OTT services' copyrights and damages their profits.
As such, despite public support for the platform and the difficulty of investigation, the APV and Busan Metropolitan Police Agency Cyber Crime Investigation Unit will continue onwards.

Hoseok (Chris) Ahn / Grade 11

Asia Pacific International School