Christmas Bazaar was held in IGBIS for friendly community development
2023-01-06 09:56:00
Yeji Seo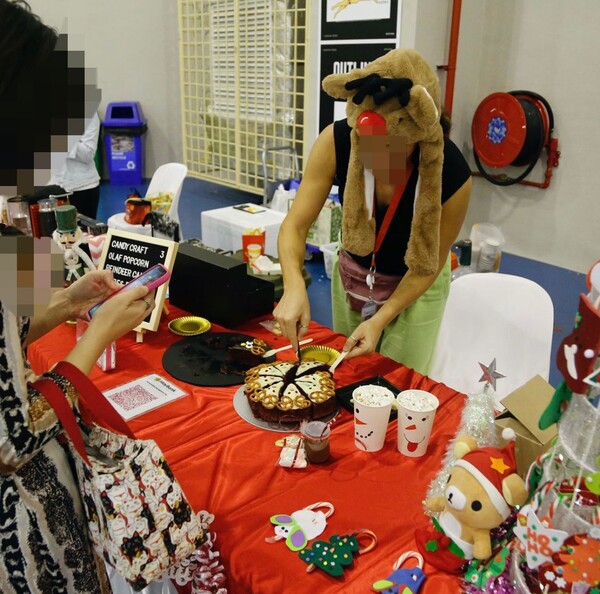 [Christmas Bazaar in IGBIS. Photo Credit: Yeji Seo]
December 9th was the most exciting day for the whole IGBIS community  and nearby villages. 
There was an event called "Christmas Bazaar" which was open for internal and external guests from 12PM to 7PM on a Friday. 
Anyone was able to join, regardless of whether or not they were a member of IGB international school, as long as they were selling products that are appropriate for the school. 
The purpose of the Bazaar was to establish a stronger sense of community through sales, donations, and exchange. 
There were lots of booths that sold a variety of goods such as desserts, food, accessories, clothes, toys, and stationeries. 
Most of them were new products, and some of them were second-hand items that were still in good condition.
For instance, the "Eco-Jewellery club" led by students participated in the Bazaar by creating  various types of accessories such as earrings, rings, keychains, hair clips, and badges. 
The majority of accessories are made with 80% or more recyclable materials such as leftover paints from the art room, pieces of plastic bottle caps, wooden sticks from nurses, and diverse glitters provided by the elementary school.
It was created to raise awareness to the importance of recycling and to break the stereotype towards items made with recyclable materials that most people still consider unclean and ugly. 
All money earned from Bazaar was donated to the IGBIS garden community for further environmental actions of IGBIS and to aid in the development of  a good quality school garden. 
During the Christmas Bazaar, there were numerous performances from kindergarten and elementary school students, and the orchestra. 
Besides the performances, there was a photo booth where people could take photos and print them without paying. 
Numerous groups of people went to these booths to capture unforgettable class memories with some funny headbands. 
The Bazaar sold different types of items such as local food, desserts, and toys with relatively lower prices than their normal prices. 
The booths for Malaysia's traditional food, the Nasi Lemak and kuih lapis, and the bakery were the most popular at the event. 
For the "Eco-Jewellery club", lots of customers showed interest and bought products at high costs for donation although the customers could decide the prices of each accessory. 
The most popular goods were keychains and earrings which were both made from recyclable materials. 
Some younger students purchased matching flower rings all together and took pictures like "Life's four cuts" with the rings. 
According to the club, all items were sold out at the end of the Bazaar, and earned more than RM1000 which was beyond their expectations. 
All the monetary donations would be utilized for the school garden community as determined before. 
Not only the "Eco-Jewellery club", but a lot of booths also achieved their goals for sales as the majority of items were not available after 6PM. 
This year, the IGBIS Christmas Bazaar enabled everyone regardless of their relationship with the school to enjoy the end-of-year mood as well as build up a closer community.  

Yeji Seo / Grade 11

IGB international school