IGBIS holds Inclusive Schools, Week sharing cultures with respect and love
2023-01-04 23:23:00
Yeji Seo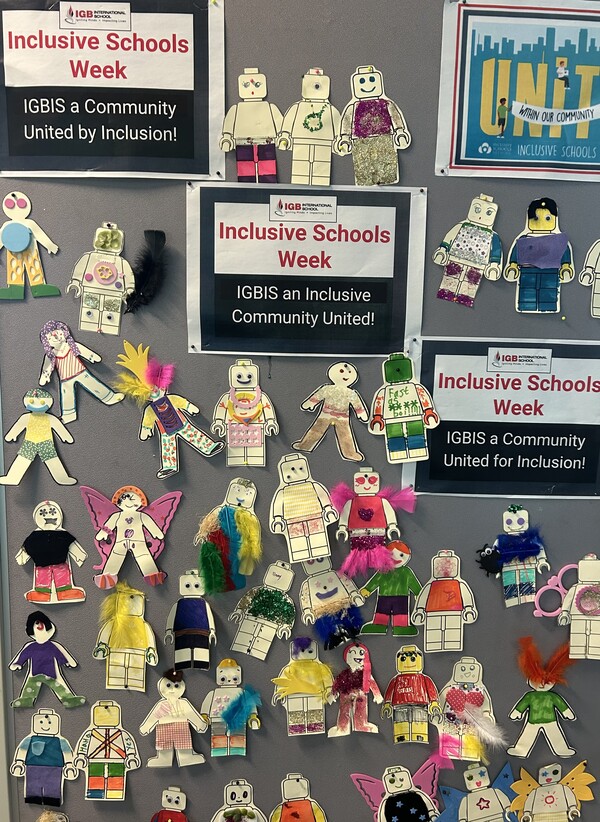 [Decorated human shaped paper by students. Photo Credit: Yeji Seo]
IGB International School held an inclusivity day on the 2nd of December to increase the sense of community among students and staff and develop collaboration skills .
The word "Inclusive" refers to not excluding anyone or anything based on prejudice.
Inclusion allows us to break commonly-held stereotypes and prevent discrimination regarding nationality, skin color, appearance or other identities.
This year, IGBIS students had time to decorate and paint different types of people on human-shaped paper with various materials that were provided.
To expand the influence of being inclusive, the school launched a new after-school activity called "Big Brothers and Big Sisters (BBBS)".
This club enables different grades of student interaction, such as kindergarten students playing with secondary students.
During the Inclusive Schools Week, all students including kindergarteners, elementary, secondary, and high schoolers were able to cooperate and share our ideas when decorating.
While secondary students mostly helped with painting and using specific materials, such as scissors, glues, and ornaments, younger grades students came out with creativity that the older students couldn't imagine.
As time went by, the empty human-shaped papers were variously decorated by the hands of the students.
All human-shaped papers had different designs, some decorated with glitters, colored with crayons, or adorned with various feathers.
The students tried to come up with diverse ideas to decorate the paper as prettily as possible.
Some looked like self-reflections while others looked like they showed the students' dreams and creativity.
Although the students are in the same community, IGBIS, there are not many chances to meet people from different ages and cultures.
This decorating time was a great opportunity for both younger and older students to interact and get to know each other.
The event did not only consist of paper decorations, students were also able to learn friendly words of different languages in another session.
For instance, there were the words "friend" and "I love you" in Korean which is "친구" (Ching Gu) and "사랑해" (Saranghae) written in the presentation and on the noticeboard for students.
After learning these different words , numerous students have started to use different languages when talking to each other.
The friendly words were put on the public noticeboard at the school so that students would have more chances to interact more with them.
One student began to say "고마워" (Gomawo) instead of "thank you" in English.
The friend began to show a deep and serious interest in Korean, which shows the positive impacts of the event.
Sharing one's culture and experiencing another's culture is not easy as it might be considered peculiar, and potentially disrespectful or controversial.
However, through the "Inclusive Schools Week", students realized that caring and loving behavior is most important in fostering such relationships.
All of these activities enabled all students to become acquainted with each others' cultures and build up better friendships regardless of their ages or genders.
It also allowed students to become more considerate in their behavior and actions to consider others cultures and feelings.

Yeji Seo / Grade 11

IGB international school