HOME
Science & Technology
Research Director Park at the Stanford Center advertises citizens to participate in smart-city related research
2023.04.30 05:00:38
Min June You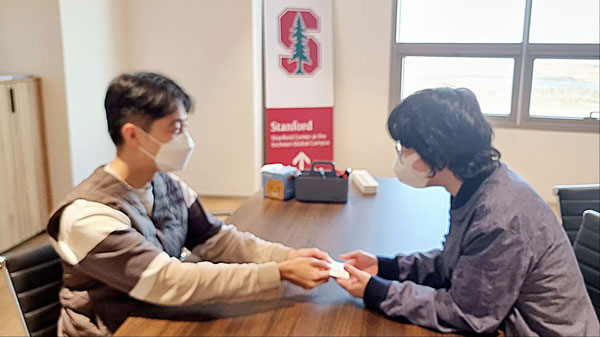 [Interview with Research Director of Mobility Hyungchai Park, Photo Credit: Min June You]
Mr. Park Hyung Chai, Research Director of Mobility at the IGC Stanford Centre, raised awareness to the citizens of Songdo of the research being done to create a future Smart City.
Mobility Director Park first explained that there are 4 categories of research needed to create a Smart City: Vehicle and Infrastructure Systems, Human / Urban Interaction, Design thinking / Entrepreneurship, and Sustainability.
Of those 4, the topic of mobility mostly deals with the first two categories.
Experiments at the Centre are being done on mobility.
Mobility Director Park said that the reason Stanford sent its research facility to Incheon, Songdo is not only because of the heightened global reputation of Korea, but also because Songdo's status as a prototype Smart-City initialized by the Korean government.
It can also be viewed as an isolated system because the city is an artificial island connected to the mainland by only a few bridges.
These factors make it the ideal test ground for Smart-City related technologies.
For example, experiments can be done on tracking the extent and use of public transportation.
Mobilities on Demand (MOD) can be created, which is a type of public transportation that arrives when people call for it.
Using AI for those MODs could prove beneficial as well, as then it could operate at places and times when no human driver would be willing to do so.
Director Park added, "There are many levels of autonomous driving. Level 3 is the level that can be used on the road, known as semi-autonomous driving. [This] level only maintains the distance between the cars that follow the lane, assisting the driver. But our goal of complete autonomous driving is [to make] cars that can act as intelligent on the road as a human being".
"For the AI algorithms needed for autonomous driving, we do not copy other autonomous driving algorithms from AI companies that specialize in the area, but we essentialize on a larger scale like traffic, effectiveness of autonomous driving on a city level"
"For example, sometimes the interval of arrival between two public transportations, like city buses, is longer than it should be. Then, if we can find out that people are uncomfortable because of it, we can make an autonomous taxi", said the Director.
"But there are some problems that need to be countered," he added. "The current types of vehicles cannot change to autonomous ones all of a sudden. Therefore, finding the most effective ratio between the two types of vehicles in creating a convenient city is one of our points of research".
"In order to accomplish it, we are putting efforts to analyze the traffic lights and prediction, using sensors on the road", explained the Director. They are also collecting volunteers to test out autonomous driving programs to see which response is best suited for people.
"From the results of our research, our aim is to spread the advantages of Songdo as a Smart City, benefitting Stanford, Korea, and the world. In order to do so, awareness of the research can be spread to others."
"I hope people of Songdo in particular will participate in the experiment needed to collect information for the better interaction between humans and vehicles. We also hope to post our results at conferences or magazines in the future", Director Park concluded.

Min June You / Grade 9

CMIS Canada