Finland Joined Nato as the 31st Member
2023-05-19 05:35:48
Joon Park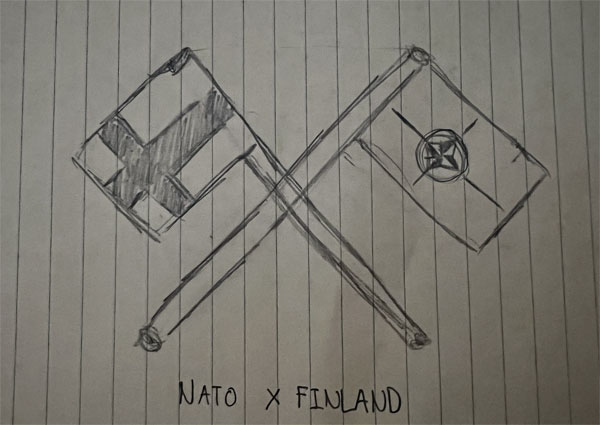 [Photo Credit to Joon Park]
Finland formally joined the North Atlantic Treaty Organization (NATO) on April 4th as its 31st member in a historic policy shift brought on by Russia's invasion of Ukraine. 
In a ceremony outside NATO's  headquarters in Brussels, the flag of Finland, a blue cross on a white background, was raised alongside those of the 30 other allied member countries as a military band played the country's national anthem. 
Finland's accession protocol was signed by NATO allies on July 5, 2022, and all 30 national parliaments then voted  on the ratification of Finland's membership.
Finland's president, Saul Niinisto, stated that defending its own territory would be their most significant contribution to NATO's shared deterrence and defense. 
The length of the border between NATO and Russia is almost doubled as a result of Finland's entry, which ends the country's seven decades of military non-alignment. 
In response to Finland joining NATO, Russia declared on Monday that it would increase its military might in the west and northwest.
According to the Kremlin, Russia would be required to conduct countermeasures as there is an increased  possibility of the crisis in Ukraine growing further being elevated by Finland's entry into the military bloc. 
Before his full-scale invasion of Ukraine, Russian President Vladimir Putin complained frequently about NATO's growth while US Secretary of State Antony Blinken claimed that by invading its neighbor, the Russian leader had inadvertently caused the same thing that he had hoped to stop.
Following Russia's invasion, support for Finland's membership in NATO increased to 80% among its citizens. 
Finland's era of strategic non-alignment started after it successfully repulsed a Soviet invasion attempt during World War Two and decided to maintain amicable ties with its neighbor. 
The country sought security under NATO's collective defense agreement, which stipulates that an assault on one member is an attack on all, in response to the invasion of Ukraine in February 2022.
Russia has observed several rounds of NATO expansion since the end of the Cold War three decades ago and the topic was divisive even prior to the invasion of Ukraine.
NATO has emphasized time and time again that it is only a defensive alliance and does not pose a danger to Russia; however, since the start of the war, NATO nations have been supplying Ukraine with heavy weapons which Russia claims is evidence that the West is determined to destroy the country.
With Finland's membership, NATO gains considerable military capabilities as it is one of the few European nations to have kept a conscription army through decades of peace since the major objective of Finland's ground, naval, and air forces is to fend off any Russian attack.
The improved integration of Finnish soldiers into NATO training and planning is another benefit of membership.
The nation has a long history of cooperation with NATO and its armed forces frequently participate in NATO exercises as partners.
Together with its neighbor Sweden, Finland applied to join NATO last year, but Turkey and Hungary, both NATO members, have delayed Sweden's application.
Tobias Billstroem, the foreign minister of Sweden, informed reporters that Stockholm wished to join NATO at its next summit in Vilnius in July.

Joon Park / Grade 11

Blair Academy