Kream, soon to reach 1 trillion KRW in brand value
2023-04-30 19:51:23
Kenna Choi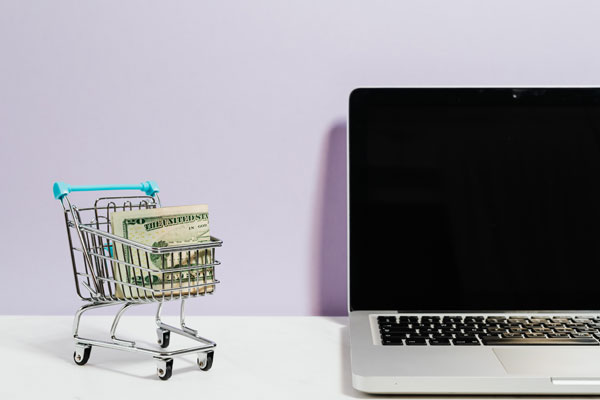 [Shopping Cart Next to a Laptop: Photo Credit to Pexels]
In 2023, Naver's Kream, a subsidiary of Naver's C2C platform, reported that they were near Unicorn Status (a startup worth KRW 1 trillion) merely three years after their launch.
The platform had more than doubled in its evaluated corporate value, currently at 970 to 980 billion KRW, since 2021, when Kream was valued at about 400 billion KRW.
Kream is a prominent example of a highly popular online resale platform.
Nowadays, it is becoming increasingly common to see costly limited-edition items that get sold out as soon as they are released.
The majority of these products eventually end up on the internet unused, resold at prices easily exceeding the original price.
This phenomenon of online reselling, a form of profit-making, involves buying a highly demanded product at its original price and selling it again for a higher price to profit off the margin.
Items that are resold are often exclusive to a very concentrated group of people.
This exclusivity values the items at a higher price than the released price.
A prominent example of a highly lucrative resold product is the Dior x Air Jordan Highs, which were released in 2020 but are still traded on resell websites.
The shoes recently shocked the Korean media when they were resold for 20 million KRW on the Kream App.
This was almost 7 times the original release price of 3 million KRW.
Like the Dior x Air Jordans, nowadays most reselling transactions are done online on specialized applications and websites.
The success of Kream was largely attributed to their approachability and diversity, which appealed highly to the MZ generation.
In the past, reselling was a tiresome process.
Potential sellers needed to bring their physical product to an offline reselling store and sit through the time-consuming evaluation process.
If they were lucky, they would receive a minuscule profit from the transaction.
Similarly, potential buyers or inquirers needed to search stores in hopes of finding an item they initially wanted.
The digitization of reselling allowed for smoother transactions as the lack of third party intervention in the transaction benefits both parties of the market.
Online, the sellers can select a price to auction the product or receive bids that would ideally drive up the price.
These platforms, therefore, enable the public to have complete control over the prices, an example of the "Invisible Hand" of the market.
Besides the prices, as apps such as Kream or StockX created a single platform for reselling, buyers no longer need to search for stores that have the specific product they want.
Apart from transactions, the websites also offer raffle for luxury products run periodically by companies.
A small portion of money can be bid by any user in exchange for a chance to win the product.
This is a great way for reselling platforms to make large profits and return customers as engaging events can get both sellers and buyers to actively interact with the platform.
However, as appealing online reselling may seem, it does come with its flaws.
The most prominent flaw is quality control.
Offline resale stores only receive an item and put it up for sale if it is authenticated by the seller with certificates or receipts.
If they can't authenticate the product, the store does not take it in so as to avoid fraudulent transactions.
However, on some platforms, individual resellers online often do not need authentication to resell products.
If the buyer wants to authenticate the product, they need to request an additional quality check by the platform, which would cost them extra.
This aspect of online reselling ultimately defeats the purpose of reselling platforms as it does not ensure the authenticity and quality of the products traded within.
Despite its flaws, as of now, reselling seems to be growing in popularity.
More specialized resell companies are emerging every day such as Sold Out, a branch of established online retailer, Mushinsa, and BGZT LAB, a branch from the Bungaejangter company, an established online second-hand store.
Some users are placing bids on their dream shoes hoping that no more bids would be taken in while others are visiting the websites daily to see if they have won the raffle for a luxury item.
The thrill and convenience of the websites has made online reselling more and more appealing to today's generation.

Kenna Choi / Grade 11

Chadwick International